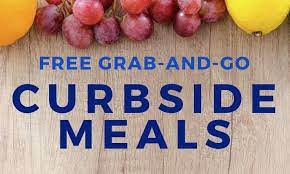 Curbside Meal Kit Service
Child Nutrition is delighted to offer a week's worth of children's meals as Curbside Meal Kits each Tuesday at ten school campuses. Meal kits are free and are for all persons age 18 and under that are not attending school in person and receiving meals daily on campus in Richardson ISD.
Pick-Up Day and Time for Curbside Meal Kits
Starting Tuesday August 24, 2021
Tuesdays, 7:30 a.m. – 2:00 p.m. at
Audelia Creek Elementary
Terrace Elementary
Mark Twain Elementary
Forest Lane Academy
Northlake Elementary
Skyview Elementary
Richardson HS
Dover Elementary
RISD Academy
MST Magnet
Meal Pick-Up Process
Meals Kits can be picked up at the back door of the school kitchens. Follow the white Meal Pick Up curbside signs to find the school's kitchen door. Parents/guardians will need to show proof of guardianship at meal pick up if there are no children present with them when they are picking up meal kits. Valid forms of proof include Birth Certificates, Student ID, Report Card, Focus Login, etc. Parents will fill out an information card for each student with the Student's Name, Date of Birth, Home School, and Student ID number or Keypad Number. Information cards will be provided at each pick-up location. Completed cards will then be exchanged for student meal kits.
Packaging
A week's worth of meals will be give out on Tuesdays only. Breakfast and Lunch meals will be packaged together. A choice of milk will be offered at the pick-up location. A menu and preparation instructions will be included with each weekly meal kit bag.
Diet Modifications
Any student who has a physician prescribed and physician signed Richardson ISD Diet Modification Request Form on file with their school can contact Menu Coordinator [email protected] or visit the special dietary needs page of the RISD Child Nutrition website.